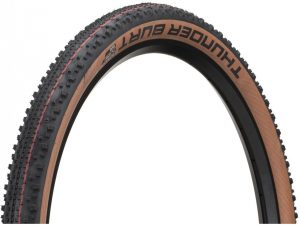 Back in the day, only BMX bikes had tanwall tires. The infamous Comp III tires ruled the day. I had them on several bikes. I don't think they were tan for looks, but for a manufacturing reason? I'm guessing using a fabric sidewall on a rubber tire simply meant leaving the black rubber off the sidewalls, showing the threads and natural color. My cousin sent me a photo today of one of his Comp III and you can see the threads pulling out slightly. They were easy to tear and you simply tossed them when it got too bad.
Even my wifes bike, purchased in 1993, had tan wall Ground Control tires. It was a Specialized Rockhopper, rigid. Nothing too fancy, nice steel frame with those classic early 90's tires.
I'm sure I'm not alone, but suddenly I'm seeing tanwall tires on XC mountain bikes again. Vittoria, Schwalbe, all seem to have them now and World Cup racers are showing them off. Heck, I got a chance to grab some "gravel" tires for my Top Fuel, and one of the choices was tan sidwalls. So I grabbed them. On my all black bikes, I'm thinking they might look kind of cool. As far as I can tell, no one is touting these tan sidewalls as anything other than visual. They aren't lighter, tougher, or anything of that nature. They just look different.
Will they take over? I don't see that happening, but what the heck, more choices is never a bad thing, is it?